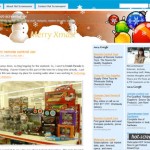 The Christmas is almost here. The final preparations are made. While I'm not involved in preparing the Christmas meal, I wanted to share something cool with my readers.
Here it is a very nice Christmas WordPress Theme.
The theme has 2 main columns, the content and the sidebar which is also split in 2 columns. If you want to surprise your readers with something cool for Christmas, here is your chance, and it is also free.
Here you can download the Christmas WordPress Theme. Your readers will love the surprise.
---
Disclosure: Some of the links in this post are "affiliate links." This means if you click on the link and purchase the item, I will receive an affiliate commission