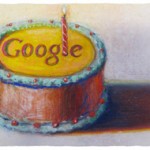 Today is Goggles 12th birthday. Few more years and Google will be allowed to get his driving licence.
I like Google, i currently use most of their services. I use gmail, calendar, docs, analytics, adsense, and others. There are some great services provided by google.
It is true that not all Google services are such top quality. For example Google checkout. I think they will never make it trough with google checkout and they will have to stop it, like they've done with other unsuccessful services ( like Wave ).
What i like the most is Google Search Engine. Although people are upset that the results in google are not real time, or that Google sypathise old pages, i still think it is far the best option when you want to search for info.
These being said, Happy Birthday Google, and please don't become evil 😉
---
Disclosure: Some of the links in this post are "affiliate links." This means if you click on the link and purchase the item, I will receive an affiliate commission