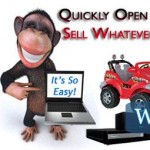 As you already know, WordPress is great for customizations and there are thousands of things you can do. Social networks, shop sites, product presentation, blogs, infinite choices. Once you get deeper into developing your website you find out that it is not so easy if you don't know css, html and php. There are too many things you should know to customize the WordPress for yourself. But wait, you can still do it.
This is why WordPress is so good and popular. You can easy find templates or plugins that let you do everything you want with very low amount of work involved. If you want to make a shop with wordpress, there are many choices you can make. I will present the WordPress Shop Builder.
With WP Shop Builder you can create an Amazon affiliate shop in very few simple steps. You set up the name and categories, and the products will be automatically get the products with all the details including description, specs and reviews.
What you have to do is to Activate the plugin, create any number of "shops" you want, add relevant keywords to match the products that will be downloaded and then insert a shortcode in a page where you want that shop to be created. In most cases you would like to add the shop directly to your homepage, but there are also cases when the shop is attached to an actual website.
The look and feel of the user interface will be much like a page on Amazon: related products, description, specification list, reviews, add to cart button. The products are added to a virtual shopping cart. When the purchase is done the user will be directed to Amazon to finish the deal.
I've tried many WordPress plugins or themes to create an online shop, many were ok but so far this WP Shop Builder is the best.
---
Disclosure: Some of the links in this post are "affiliate links." This means if you click on the link and purchase the item, I will receive an affiliate commission