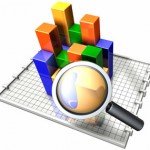 Tracking visitors is something that anyone should care about. The more information you have about your visitors the better is for you. If you run your website or blog on wordpress you can choose to have a plugin that will deliver the stats directly to your admin panel, or to use an external analytics software like Google Analytics or Statcounter.
While both options will deliver the results that you need, the user experience and the level of detail can make the difference. 
What type of information can analytics software give ?
The number of visitors to your website
The number of page views
The source of the traffic
The operating system of your visitors
The screen resolution of your visitors
The time user are spending on your website on average.
Bounce rate.
Which pages are more popular
Which pages are shown more often on search engines
Which pages are linked more often by others
What conclusions can you take by analyzing your website traffic ?
Is your website popular or not
Your readers enjoy the content and read more articles
Where your audience is coming from
Your content is accessed more from computers or from mobile devices
Is your content fit to user screens ?
Visitors are reading your content or they leave instantly ?
What type of content should your write more often
Most of the analytics software gives you the basic information that you need, but some of them are showing it better. Using a plugin for tracking can be easier to setup ( just install the plugin ) and the stats are shown in your admin dashboard.
If you are choosing an external solution then you will have to install a tracking code in your website. Most of the plugins built for wordpress are simple and does not offer you too many details.
Among the external traffic software, the most popular is Google Analytics. It will provide you data in many ways. You may not be interested in this at the moment, but if the website grows you will want to know more and more about your visitors. The only disadvantage of Google Analytics is that the data is not real time. You can't know how many visitors accessed your website after you a specific change to the website, or in the last 20 minutes after you started a campaign. This is why I use Statcounter too. The data is not that accurate or specific, but I can get real time stats and details about every visitor. I can track the exact path that led him to my articles.
To take advantage of Google analytics features but to be able to see them on your wordpress admin dashboard, you can use Google Analytics Dashboard plugin. It will bring you the most relevant information from Google analytics website to your wordpress dashboard.
If you want real time visitor details in your dashboard, you can install Statcounter WordPress Plugin. Until someone develops a great analytics wordpress plugin, the integrated solution to use external software + dashboard plugin is the best choice.
---
Disclosure: Some of the links in this post are "affiliate links." This means if you click on the link and purchase the item, I will receive an affiliate commission