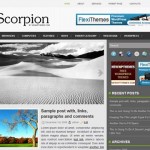 I've noticed recently that many people come to my site searching for "Scorpion Theme". First, i asked myself if there is an wordpress theme called Scorpion. I searched on google and i found it.
Here it is the full featured Scorpion theme. Despite my website url i'm not associated in any way with the theme creator. 
At first sight the theme looks nice, but the whole "scorpion" thing is a small logo near the title. Here is a preview, and you can download scorpion theme from here . You can see a demo at NewWpThemes.com .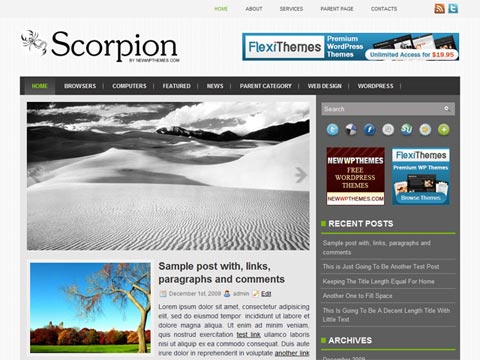 At a closer look i noticed something at this theme. It looks very similar with a theme i already wrote about here.  Both themes have the same creators, and you can check their website.  If you look for good themes their site is worth checking. I already have 3 websites that run these themes.
Even if you will notice that most themes feels the same, they have different color scheme and they look slightly different.
---
Disclosure: Some of the links in this post are "affiliate links." This means if you click on the link and purchase the item, I will receive an affiliate commission