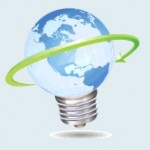 Search Engine Optimization will bring visitors to your website for long time. Quality content matters, but when your blog is new google won't send too many visitors to your website. Then you start promoting, placing your homepage url to all your web profiles, your statuses, you tell to the world that you write quality content. Then you start to send every post to social media and social bookmarking. People will follow, search engines will follow. It is easy, but you don't get all the traffic that you deserve. Since the easy places where to get links are exhausted and your speciality is writing, not link building the best and only technique that you can do is to link to your own content. This is the easiest and best way to take advantage of your content to make search engines to send more visitors to you. I will show you a easy way to do this. 
Since WordPress 3.1, there is an option in the text editor that will help you to easi link to content on your own website. When you press the "Add Link" button, below the classic form you will see a search box. If you ues that search box you can find content on your website that you can easily link to. It is a good way but you still have to add every links maually.
There is a much easier way to automatically link your old content from new posts. If you go to your analytics account, and sort all the pages by the number of page views they get you will notice that 80% of your visitors read only 20% of your posts, and the other 80% of the posts are viewed only by 20% of the visitors. Those 20% were the lucky posts, that got some instant links from authority sites and google started to love them. You can use your link popularity so you can make google to notice and rank the other 80% of your content.
The automatic way can be accomplished trough a nice plugin called Seo Smart Links. The plugin is fully automated. You can set keywords for every article you want to be linked, and the plugin will automatically add links where the specified keyword is found. Every article that never got the search engine attention can be linked from several popular posts in your blog. This will not improve only your search engine rankings, but more and more readers will click on that link and you should start seeing more comments or more inbound links to that article.
More, if you have a good internal linking, people will stay more on your site and will read more articles and once. Why let those articles that you wasted time to write to get lost ? Use Seo Smart Links.
---
Disclosure: Some of the links in this post are "affiliate links." This means if you click on the link and purchase the item, I will receive an affiliate commission