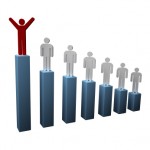 People are frequenting asking me what tool I use to check my rankings, competing sites rankings or websites where I might be interested to put my link to. What I dislike is when they cme to me and ask: "Do you use the XYZ seo spyware/spy glass/ competition finder/other fancy and long name tool to check out your competitors rankings, how to use it ? and how good it is?".
There are a lot of fancy and long name tools that are only built to waste your time ( and sometimes money ). First of all, I hate spying on my competition, I just focus on my work and don't get bothered by what others doo, how their rankings improved, etc. In this way I get the most results for my time. But, there are moments when I use SEO tools.
I try to keep it simple and I avoid tools that show me stupid info and reports about websites, competing websites, keywords, etc with only one click. It is a pain to look trough so much data and find out the single bit that I need.
How many times a keyword is searched
When I'm starting a new website, or when I start to promote an old one I go to check what keywords should I go for. I use Google Keyword tool. I put some keywords and it will tell me how many times  that keyword is searched, along with a huge list of suggestions based on the entered keyword(s).
Very important: Don't get fooled by the  "broad match search" option. By default Google Keyword Tool shows broad match search queries. This means that the results shown are not all searches for "keyword", instead are for all searches containing the keyword entered.
A simple and very important example is the query "fahrenheit to celsius" which comes up with about 2 million searches. That's very far from true, because the results containing other words are also counted, which means searches for "75 fahrenheit to celsius", "90 fahrenheit to celsius" and all other temperatures people specifically searching for. If you select [Exact Match] from the left and see how many times the exact phrase "fahrenheit to celsius" is searched every month you will be surprised to see that it is searched for less than 1000 times. That is the real number, nobody searched for "fahrenheit to celsius", instead they are searching for "X fahrenheit to celsius" where X is a given temperature.
The number of backlinks top websites have for a keyword.
Choosing to optimize for the most searched keywords related to your topic is not a good idea to start with. If they are very competitive you will never reach first page. You can't expect to build 50 000 legitimate links overnight to outrank your competitors in a very competitive field.
In real word it is bad to enter in a very competitive market. In SEO it is true only for very competitive keywords. If a market is very popular it means that people are searching for other keywords too. Keywords with fewer searches but with no website optimizing for it. So there is your change to get into that market and grow up your bussiness so you can later compete with big guys.
So, how do you know how competitive is a keyword  ? For long time I've used Yahoo Site Explorer which gives you an accurate number of backlinks a website have. Google shows only a small number of pages where a link to your site is found when you search for link:yoursite.com , but yahoo shows them all.
The truth is that while I'm not searching at yahoo siteexplorer, I'm using other tools based on Yahoo Site Explorer results.
A very fast tool I use is Seo For Firefox provided by SEOBook. It is a firefox extension that will give you live info while you search on google for different phrases. After the extension is activated, open google.com and search for a keyword. Ranking and backlinks data will appear for all websites in top 10 results. You have to disable google instant search to make this work.
The only info I'm looking at is Yahoo domain links and Yahoo page links, the same data that yahoo site explorer shows, but this time is automated and I can see the data for top 10 results of a google search on the same page. It is a great time saver. So, if the top 3 websites have under 5000 backlinks reported by Yahoo that keyword is not so hard to rank top for.  But, if you do a deep search you can find other keywords with a lot of searches where top website has only few hundred backlinks.
Tip: Long tail keywords are less competitive and they convert much better.
The creators of this tool, Aaron Wall's SEOBook also have a training membership program which will learn you a lot about SEO and how you can achieve higher rankings with less time spent. Here is the link you can join SEOBook community. ( affiliate link )
Lately, I'm using another great tool to analyze my website or competitor backlinks and rankings. It is Open Site Explorer provided by SEOMoz. This tools gathers backlink data from Yahoo and Google and will make a nice report containing the Page strength, domain strength and number of backlinks. What makes this tool more important is that they show a list with all backlinks to a website and also show the strength for every page.
SEOMoz are developing SEO tools for many years and they really know what they do. They also have some other nice tools that you may want to check.
---
Disclosure: Some of the links in this post are "affiliate links." This means if you click on the link and purchase the item, I will receive an affiliate commission