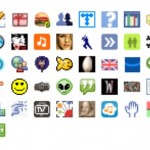 Facebook has officially taken over the world, hide your kids, hide your wife. It seems like yesterday when the only people who had Facebook were college freshman and sophomores who were trying to find out if the girl they saw in lecture is single. Fast forward to 2011, Facebook has became a one stop shop for all things internet. Through it's application offerings a user can go from being in the mafia to planting fields, the possibilities are near endless. That being said, I have composed a list of my top five apps.
1. Scrabulous
Who knew the board games of yester-year would remerge in online form and as popular as ever. Scrabulous combines the fun on Scrabble with ease of Facebook. It's a great game to play solo or with other Facebook friends and family. I find my vocabulary expanding from all the hours I spend playing!
2. Where I've Been
Are you a world traveler? Do you want to share all of the wonderful places you have been with your friends and family? Where I've Been allows you to pinpoint locations on a map where you recently traveled to. Tag pictures, friends, and other places of note in each location you visit. There are rumors that a review function is on it's way, making it more on-par with location based services like Yelp.
3. Soundcloud
Want to hear that underground dub-step remix of your favorite Lady Gaga song? Soundcloud is the premiere spot on the web for producers and underground commercial remixes. Almost every DJ and music producer under the sun has a Soundcloud profile, it's kind of like the dj/producer Facebook. With an easy user sound-form interface, the Soundcloud app provides users the ability to share their favorite Artists, Tracks, and exclusive media.
4. iLike
In the land of 'likes' who knows what your friends actually indeed 'like'. iLike has made it possible for users to share what they 'like' with their friends in a stream lined, non-spammy fashion. Which local tv, music, or event did you most like?  With corresponding concert and prize information to online competitions like the iLike Music Challenge, this app is a must have for entertainment lovers.
5. Flog Blog
All avid bloggers want to want to link their Facebook profile and blog, this application has got all your needs covered. Flog blogs lets your friends read, comment, and follow your blog posts dorm directly within Facebook. Although users are actually reading your blog within Facebook, traffic to your actual domain rarely dwindles because of Flog's great permalink URL procedures. My favorite aspect is the automatically updating RSS feed so all your friends and subscribers know the instant you have issued a new post.
What are you favorite Facebook apps? Let me know in the conversation below!
---
Disclosure: Some of the links in this post are "affiliate links." This means if you click on the link and purchase the item, I will receive an affiliate commission