Premium templates are usually designed for specific uses of WordPress, not only blogs. For example: landing pages, consultation website, presentation website.
Another aspect of premium themes is that they have advanced options that you can change directly from your administration panel. They have advanced features meant to avoid template programming.
If you want to get things done faster then a premium template is the right choice for you.
Here is a list with 10 premium templates that i like the most.
1. Yamidoo Pro
Yamidoo Pro is a premium theme provided by WpZoom . Apart of the good looking of this theme, you have a nice slider on the blog homepage. I like sliders and you should too, you give your visitors a better option to view your posts without scrooling down.
We first moved from full posts on the homepage to show only summaries so the user to read only posts he is interested into. Then we added descriptive thumbnails to every summary so he can make a faster decision. Now we give to visitor the option to just wait and see what is happening on our blog.
This theme have the slider, then the latest posts from 4 featured categories, and after that the posts are listed in the old way.
Click here to buy Yamidoo Pro.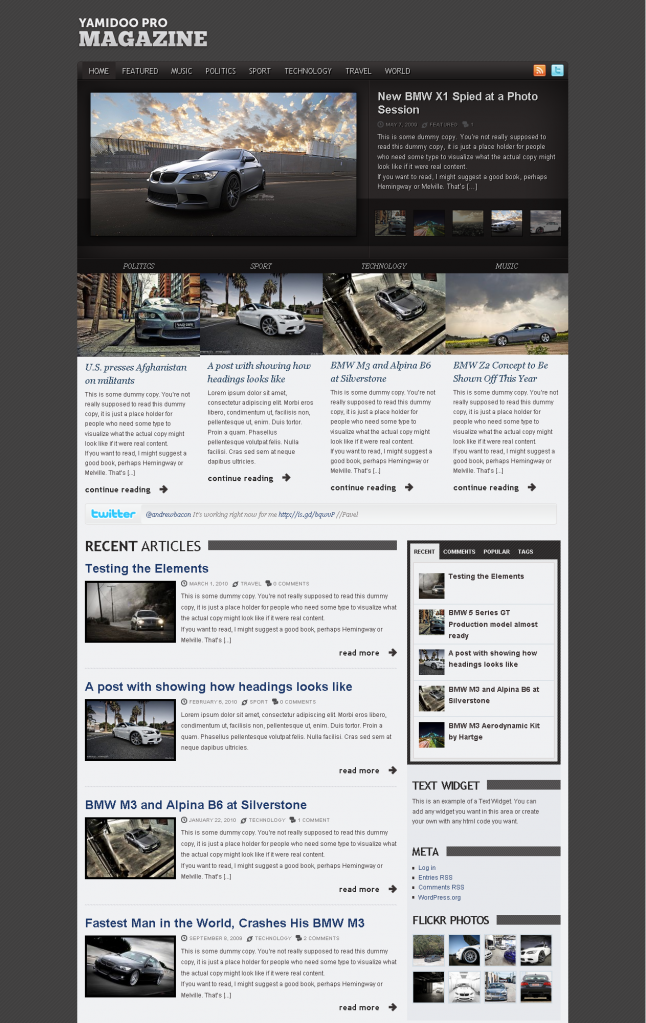 2. The Corporation Theme
The Corporation Theme is provided by ElegantThemes . The best thing about this theme is the quick configuration, you can fully change the website color. They also provide a set of widgets to use.
Click here to buy The Corporation.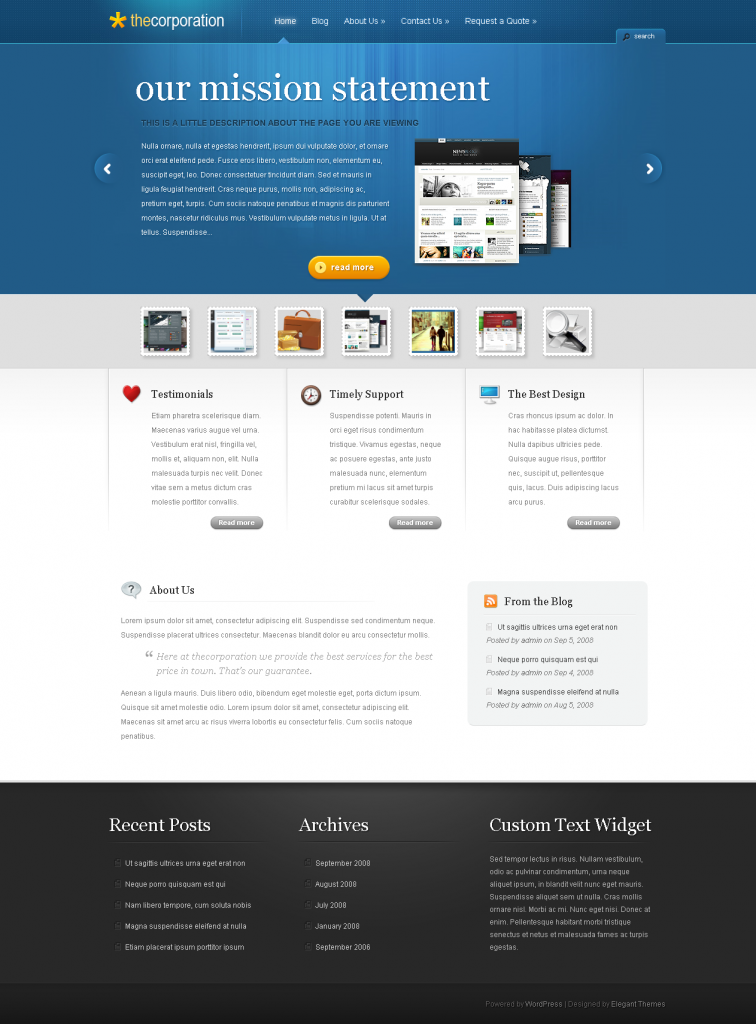 Price: 20$ . Preview. Buy now.
3. Wp-Smooth
Wp Smooth is a smooth theme provided by Solostream. This theme contains everything i want: a slider, featured posts, and boxes that display the latest 3 posts for categories you select from administration panel. It is very good for blogs with a lot of articles published on different areas. If some readers are interested in only one or two categories they can look at the respective category and see what is new.
Click here to buy Wp-smooth.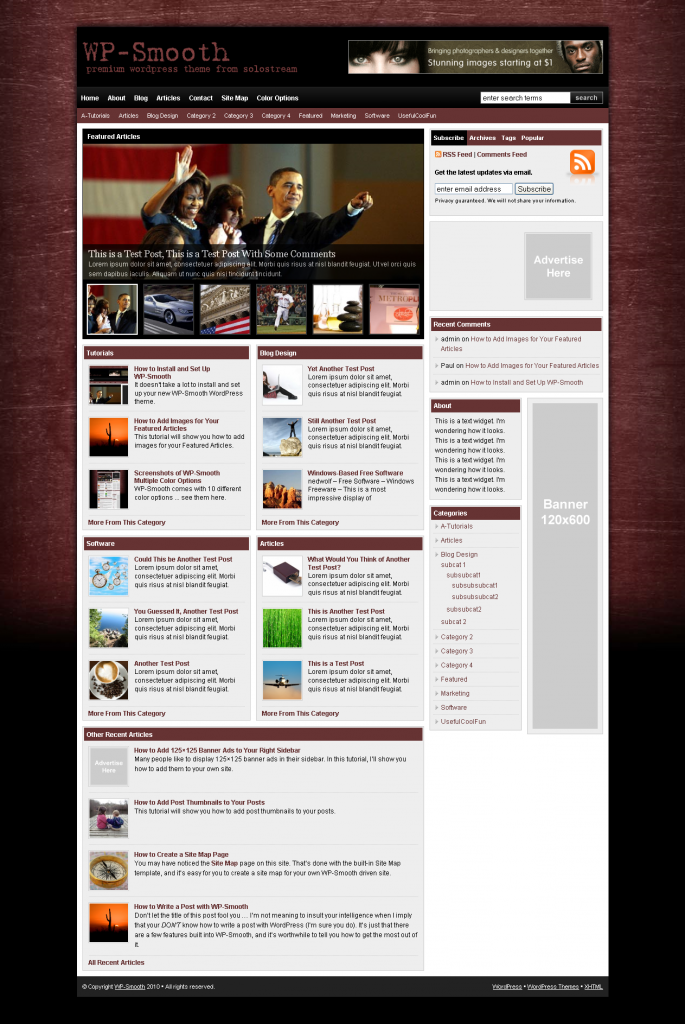 4. Wp Genius
Another nice theme by Solostream. The posts can be displayed in two columns from 2 categories. This is looking more like a blog than a site.
Click here to buy Wp-Genius.

5. Main Street
It is a theme provided by Gorilla Themes. It is designed for listing website. Not many features present on it, except the slider that is a good way to post featured listings.
Click here to buy Main Street theme.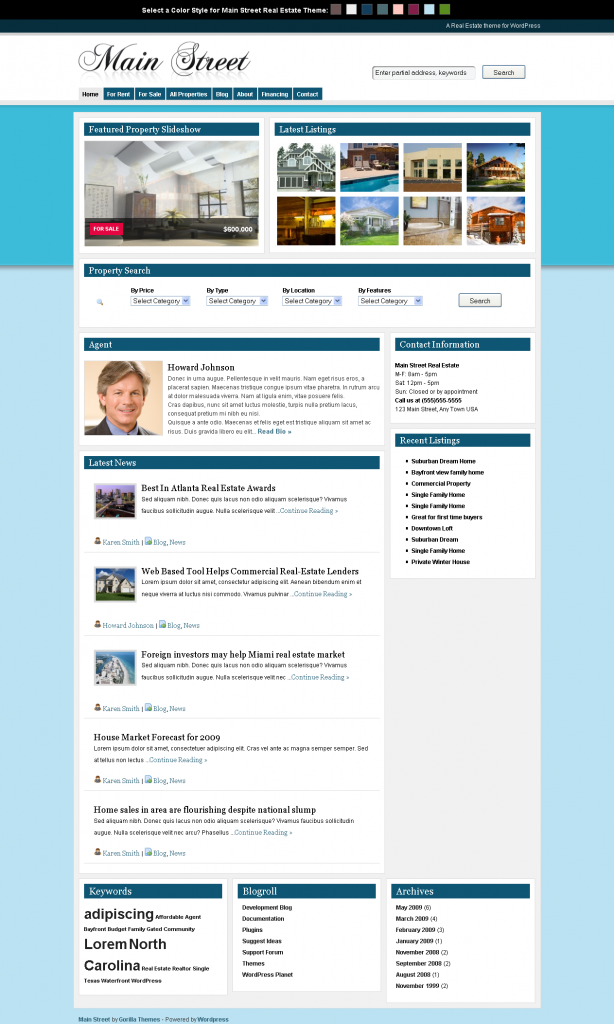 6. Zenko
Another good them for news or informational website by WpZoom. Basically, you can show many articles on a very short space on your homepage.
Click here to buy Zenko theme.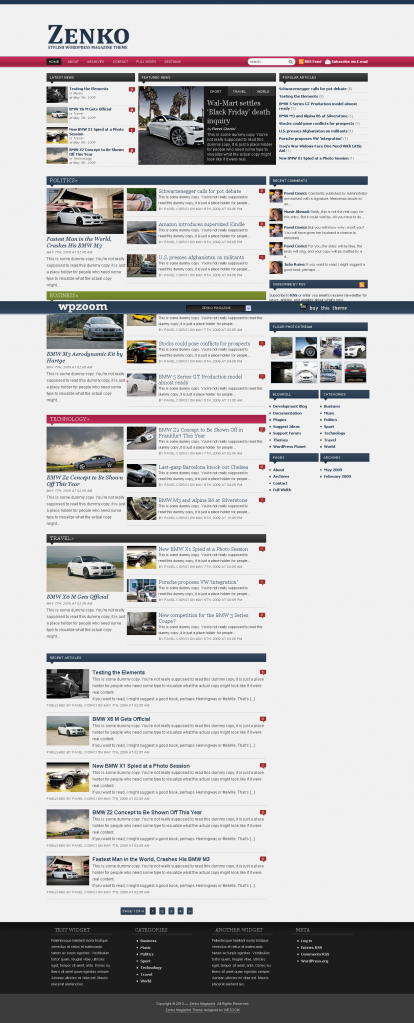 7. TV elements
Like videos and photos ? Well, this theme is right for you. You can make a good video blog with TV elements template.
Click here to buy TV Elements.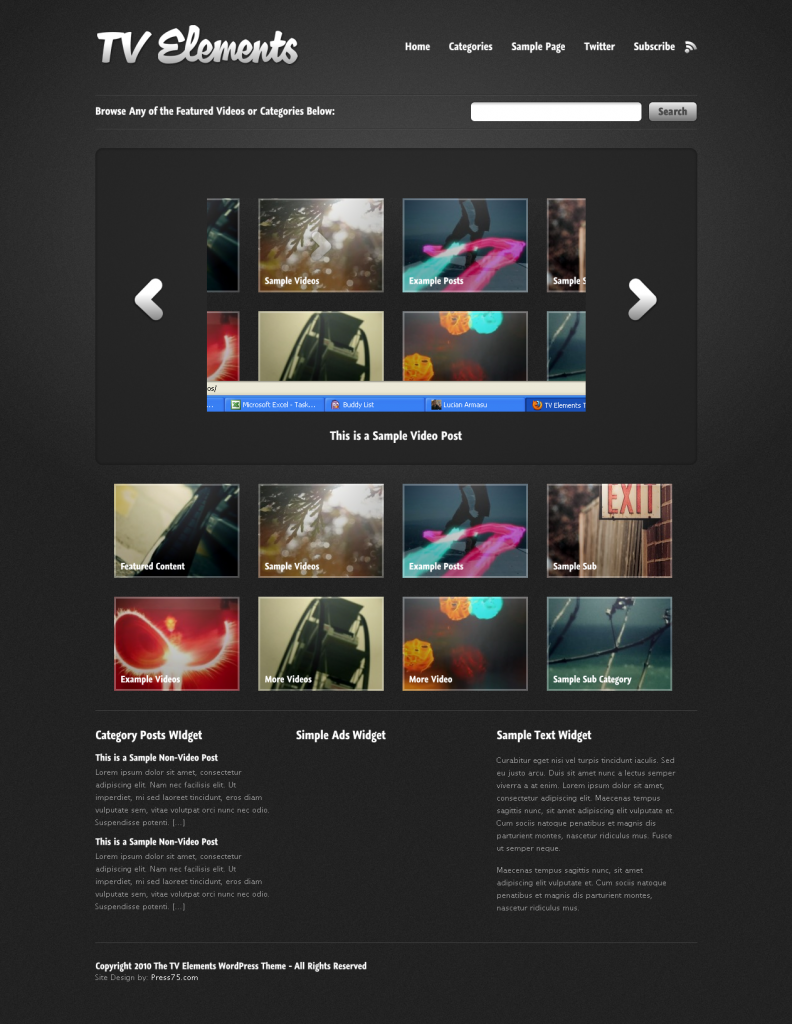 8. City Guide
Want to make a travel blog or website? Or a location listing ? This theme is right for you.
Click here to buy City Guide theme.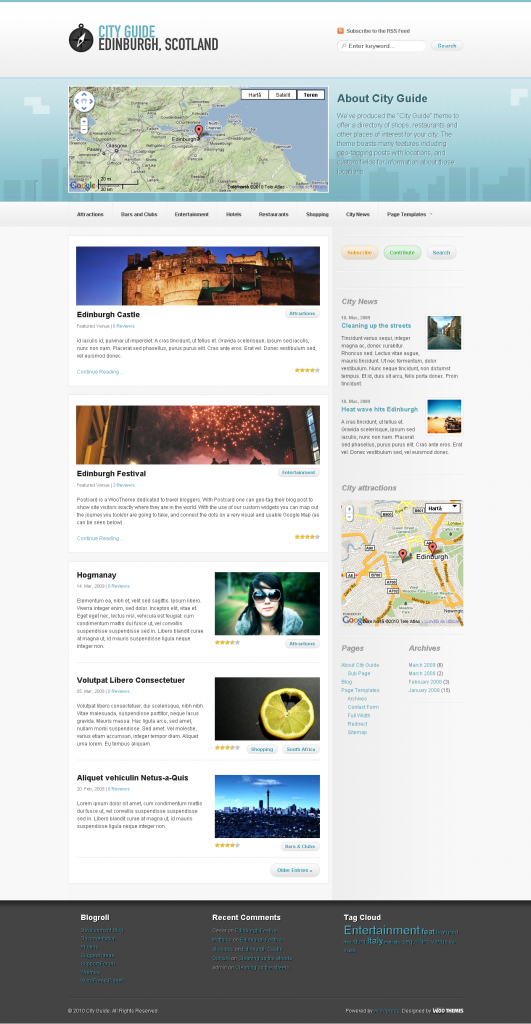 9. Education Theme
It is a theme by StudioPress . Studiopress themes are not so complex as others, but they provide greater functionality and easy customization.
Click here to buy this theme.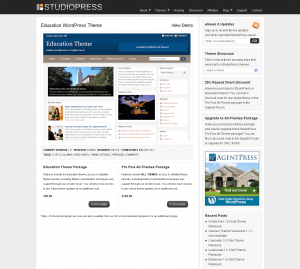 10. DeCondo
DeCondo theme is powered by ThemeShift. It is very good for listing, especially real estate.
Click here to buy deCondo.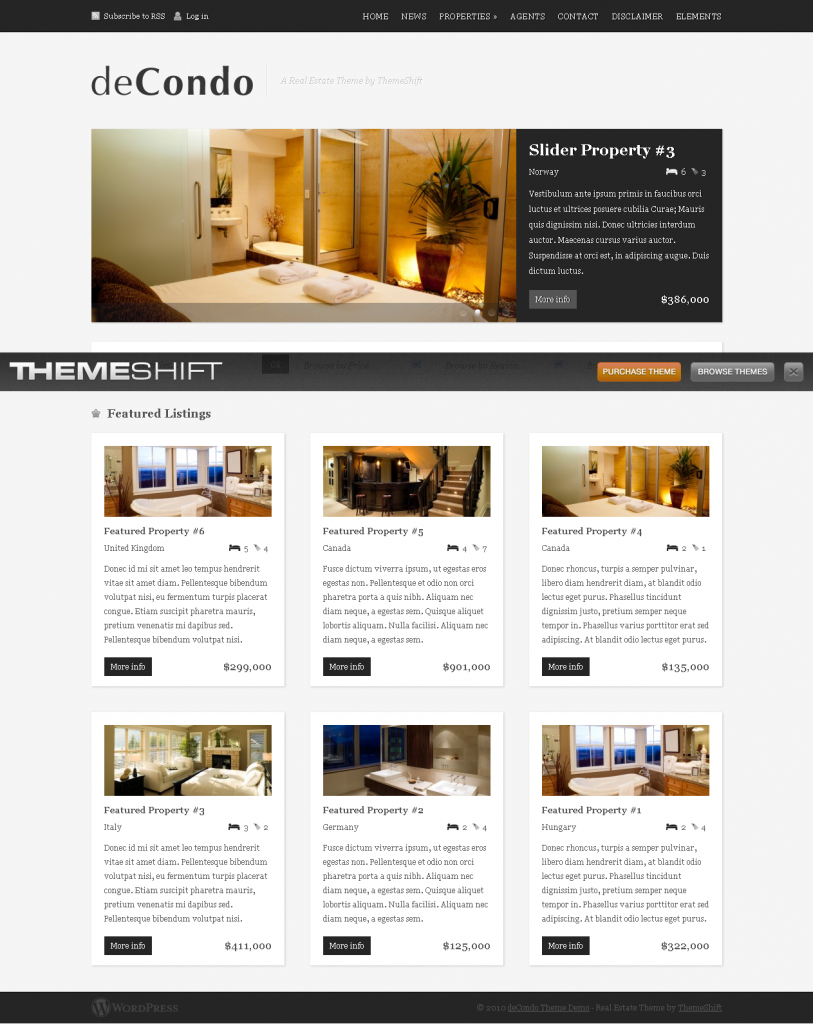 ---
Disclosure: Some of the links in this post are "affiliate links." This means if you click on the link and purchase the item, I will receive an affiliate commission