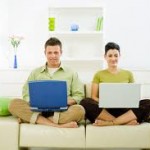 If you are a wordpress developer or designer you should be fine with money in the following years. The number of websites running wordpress are increasing drastically and webmasters can't ignore the benefit of managing the content themselves. Meanwhile, to make changes to the way website looks is not so easy that anyone can do, in fact it takes some time.
In wordpress it is easy to manage the content for everyone, add/change pages, select what front page displays, add widgets, change their ores. der, but that's not enough for a website. If someone want to change the way post or pages or widgets are displayed, or they need other changes they need to ask someone who knows to do it.
So, you are familiar with wordpress, know html, css, php and you can do any change in wordpress, where you should go now ? There are many places where webmasters are looking developers to get their work done and where they pay pretty well.
I will review top freelancing websites who have sections for wordpress specific work, based on 6 factors:
Number of WordPress related projects posted
Number of WordPress developers registered ( less is better )
How easy is to get a job, this can be influenced by other minor factors like the percent of buyers that cancel projects without selecting a coder, the projects posted/average number of bidders ratio, and other small aspects that are based on my personal experience.
Revenue level . This is based on average payments for wordpress related jobs
Costs. Some freelancing websites have some fees involved that have to be paid from developers too. This will not influence drastically the standings because it has both advantages and disadvantages, but if it will be a tie between 2 websites, the one who have a smarter pay system will be placed higher.
Feedback system. This is very important to any freelancing website. If a good rating and feedback system is in place you will be very well protected against potential fraud buyers who want to get the work done and never pay you. This includes how much weight is put on the internal escrow system which is very important for any freelancing website.
WordPress jobs
WordPress Coders

lopers

Job Award

ct

Revenue
Costs
Feedback

em

Overall
oDesk
Guru
Elance
vWorker
Scriptlance
Freelancer
WordPress Freelance
---
Disclosure: Some of the links in this post are "affiliate links." This means if you click on the link and purchase the item, I will receive an affiliate commission