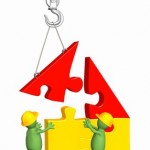 When you start your small online business or just a simple website you will be more likely to do all the work for yourself. It is a right decision, because you are not sure where to drive your money ( if you have any money ) and you have a lot of time.
If you have a little experience online and your first website is grown and maybe already sold for good money you want to think to get the business to the next level.
What's the next level ?
The work for a website is exhausting, dealing with the appearance, creating content, searching for ways to get new visitors, respond to your visitors, and all other stuff involved in running and website.
Avoid the "I can do it for myself" trap
It is very good to be able to work everything for yourself, but your time is limited and with this thinking you can't go very far. Owning a single website may work but when you want a second website or when you want to have some advanced features to your website you will envy your competitors.
How can they post 10 articles every day ? How can they involve and respond in social media with every visitor. How can they get so many links in so short period of time ? They outsource the work.
What kind of work can you outsource
Practically, you can outsource everything, even the management of the whole website! Yes, it is true. 4 years ago someone hired me on a outsourcing network to manage his website. He told me what he expects and i was responsible to do the work. I dealt with the content, the marketing campaign, almost everything. I sold myself cheap, for a  few hundred of dollars i had to do all the hard work.
You can also find experienced webmasters, or young enthusiasts that will manage your website and deal with everything for you. Probably you will have to pay more for get a wonderful job done, but it is all about what you expect. If you expect the webmaster to really drive your website up in the rankings and you clearly tell this to him from the beginning there is a great chance that you will succeed. He will learn new ways to drive traffic, new ways to improve the website and he will apply them and help your website to rise just to get your money and the high rating.
The content and marketing campaing are the most common types of work that get outsurced and they provide good results. For content, you can pay from 2$ to 15$ for an article, depending on the lenght and quality. For a sales page you have to give somewhere between 20 and 100$, also depending on the quality.
The marketing section may consist in getting links for traffic and SEO where you have to pay for the quantity or the quality of the links, which is not recommended, or you can pay directly for results: "get me x thousand of visitors for this amoung of money, "First page of google guaranteed". It is much better to pay directly for results.
How to get the best results from outsourcing
If you don't know what to expect when posting a job on a freelance website, you may end up wasting money. You should pay for guaranteed work only, work that you know it improves your traffic and quality. If you don't know SEO don't pay for a link building campaign as you may not know what to expect from the freelancer. Better pay directly for SEO results ( guaranteed placement ).
Where to meet the best freelancers
Good freelancer are not all in the same place. There are many freelancing website on the web, some general and others focused on specific topics. In my outsourcing experience ( both as freelancer or buyer ) i used many freelance websites. Freelancer.com, vWorker, Elance, WordPressFreelance, Scriptlance, Guru.com.
Freelancer.com is the largest freelancing community. There are many programmers and content writers out there and they are mostly good intended people. The price rate for freelancer is somewhere in the middle, as a buyer you can pay low rates for content or coding related work. It is fair for both buyers and sellers, you can get low rates and quality work as a seller, and get good money for your work as a freelancer. Click here to visit Freelancer.com .
vWorker ( ex. RentACoder ) is the place where you can get the cheapest price for your outsource work. It is known as being full of freelancers from low wealth countries and where you can get the work done for practically nothing, but also the quality of the work is proportional with the price.  I don't recommend vWorker if you are a freelancer, you can end up working for pennies just because others are wanting to work for that. As a buyer, unless you have some very basic work that can't be done in many ways i recommend you to avoid it. You can still get some good jobs done but you have to search carefull and maybe to expect some wasted time. Click here to visit vWorker.
On the other side, Elance has very high rates for everything. It is a placed where very expensive freelancers are residing. As a seller you may find this place wonderful, full of quick jobs that are paid well ( The minimum bid amount is 50$ ). For buyers, it is true that there is a greater chance to find quality providers for long term work, but you need full pockets to support the work done here. Click here to visit Elance.
WordPress Freelance is a very small community dedicated to wordpress work. The problem is that the payment is not very safe ( no internal escrow system ), so you have to deal with that for yourself. WordPress is growing so this work community should also grow in time and probably new features will be added.
---
Disclosure: Some of the links in this post are "affiliate links." This means if you click on the link and purchase the item, I will receive an affiliate commission