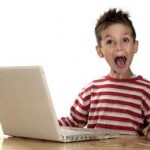 Nowadays, it's not surprising for adults to have their own blog sites. Even my 75-year-old mom has her own blog about homemade rugs. The thing here is that many teens and young adults are neglecting a blog's ability to generate income. Many bloggers within the age range of 18-25 talk about less important topics. I have nothing against non-business blogs, or blogs about the latest developments on Gossip Girl and Sons of Anarchy. It's just that, with our country's current economy, blogs are great tools in helping our fellow citizens out. Many young entrepreneurs exist today, but I believe this vague number is not enough to create a great economic change.
The youth have enough experience to tell stories and share thoughts from a fresh, different perspective, and this may lead to the creation of new ideas and innovations. To be honest, being in my late 50's, things are better left to the youth. Though I am still strong and I still can write and do business transactions online, younger people have something we old people do not have. They have the excitement, the strength, the knowledge, and especially, the time to start online businesses and write passionately about it. Sadly, when I introduced the idea to my 20-year-old nephew, he just laughed at me.
I was in my late 40's when I discovered the Internet. One of the first few websites I encountered was an SEO blog owned by a 24-year-old student from Zengchen, China. We exchanged emails and ideas, and he actually taught me how to blog about my business. Look how a young guy can influence an adult like me! He is now a senior Economics professor in Michigan, and he's currently leading a group that encourages youth to use the power of Internet to change the world through simple things like expressing political ideas, writing, and, surprisingly, even business blogging.
My time has already passed and I can't be young again, yet I am still filled with hope. I am not writing this to give up what I have now. I just want to encourage young people to use the Internet and the World Wide Web's potential for nobler purposes. We can use our status as business owners to empower the youth and bring out the entrepreneur inside them. We can hire promising and potential young people instead of hiring arrogant job-hoppers, or give opportunities to the financially challenged. Use the power of blogs to write about the youth and how we can encourage them to do business. The world is not all about money, but helping our country through the youth can mean the world for us adults.
---
Disclosure: Some of the links in this post are "affiliate links." This means if you click on the link and purchase the item, I will receive an affiliate commission