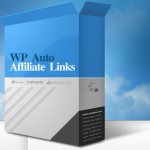 If you are in Internet Marketing for some time, you know that you can make more money from your website with affiliate links rather than displaying ads. Ads are very easy to set-up, you just place the ad codes in hot areas of your site and then you just keep checking the earnings. Placing affiliate links is also easy, but you have to go to the merchant site, find products to promote related to your content, add the links, then make sure that the links are still working, remove broken links, update links, etc. What if I told you there is an automated way to do all this ?
Wp Auto Affilate Links PRO automatically connect to Facebook and Clickbank, get the links relevant to your content, and place them into your content. The links will be placed on product references, product categories, hot phrases, etc. Easier than setting up ad units. You only set your affiliate id, your website category, how many links you want to be displayed and you are done.
The plugin also has a manual functionality, where you can get your own links and set which keywords ( or keyphrases ) you want them to be displayed on. So, what are you waiting for ? You can install the plugin directly from your administration panel. Go to "Plugins" -> Add new and search for "auto affiliate links".
---
Disclosure: Some of the links in this post are "affiliate links." This means if you click on the link and purchase the item, I will receive an affiliate commission