Judging by wordpress popularity system, top 10 most popular plugins are: "Contact Form 7", "All in one SEO pack", "Google XML Sitemaps", "WPTouch Iphone Theme", "Akismet", "Twitter tools", "WordPress.com stats", "WP Follow Me", "NextGEN Gallery" and "Audio Player".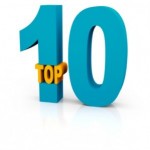 I will go trough each of them, i will install on my test server and i will try to make a fair review.
1. Contact Form 7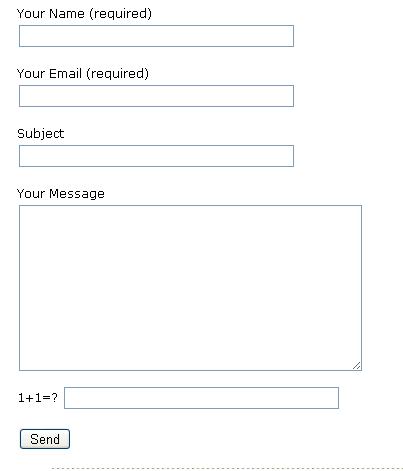 After installing i was very impressed by the level of customization that this plugin provides. He is supposed to show a simple contact form in a page of your choice. At the first sight things in the plugin administration page looks very complicated but it isn't and the contact form is ready to use in few seconds because it comes with a contact form created by default which has all the fields that the majority will leave as it is: Name, E-mail, Subject, Message and Submit button. So install it and all you have to do is to copy the code for that plugin, then go to edit page and paste it there.
With Contact Form 7 you can add more contact forms, just press Add new and there is an option to select the language. It supports many languages, so if you want in other language, is very good.
To add more fields to the contact form you don't have to search documentation to get the code for them. There is a selector that let you to choose from all available type of fields: text, email, text area, drop-down, check box, radio button, acceptance, quiz,  captcha and file upload. So many features that you can use those forms as an offer request or lead generation.
You can add 2 mails to send the message to and you can customize From field, Subject of the e-mail and you can add additional headers.
Also you can customize the messages that the user get for successful completion or if there are errors. But in most cases you won't need to change those and i'm sure that the reason you use wordpress is to get more speed and this plugins can be very fast setup and also fast customization ( if you need ).
For captcha, it works with Really simple captcha plugin.
Support is very good, the plugin has its own domain, a blog, FAQ, everything, so go and download it.
2. All in one SEO Pack
In my opinion, this is the most popular wordpress plugin, after Akismet. It is great for basic SEO.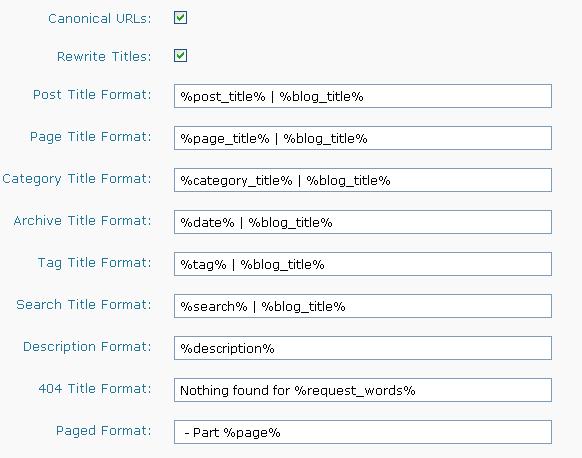 So, you have to download,  install and enable before it will work. It is all about title and meta tags in your page. It also handles robots instruction.
You can set what type of pages you want to be indexed: index,single,category, tag pages, by setting no-follow and no-index instructions for robots.
Another advantage is that you can set how your titles and descriptions you want to look like, or, you can set for any page or post of your blog what title, description and keywords it should have. If you don't set anything, the tag will be the title of your post, the description will be the first lines of you post content and keywords will be tags and categories.
Although it is very popular and very simple to use, in my opinion something better can be done, i will research next days about other SEO plugins that can do better than All in one SEO. One factor that makes me think that it can be done better is their PRO version which obviously have more options. The PRO version costs some money but i'm sure that there is a free plugin that does everything that All in one SEO pack PRO does. It just needs more digging.
3. Google XML sitemaps.
If you use webmaster tools you already know how good a xml sitemap can be. It is dispensable, right, but it is better to have one that not to. Well, this plugin does a simple thing, generate an XML sitemap that you can send to google.
After installation you get to its options page where you can generate a sitemap for the first time. There are many options there, a newbie will find it confusing, but SEO people will always appreciate the work involved in this plugin to bring them all options that they need.
The order in which the section are displayed is not the best, for example, the section where the type of pages that will be included in sitemaps ( single post, pages, category, archives, tags ) is the least. In my opinion, that is the most important.
The plugin is automated and a new sitemap will be generated every time you change something on your website.
It has options to notify google, ask and yahoo about updates to your website.
4. WPTouch Iphone Theme
This plugin is supposed to make your website if it is accessed from Iphone, Ipod or other smartphone to send them other version of your website, customized for Iphone.
This happen by implementing ajax stuff that users will have to click to get more content, so at the first not everything will be downloaded to the smartphone.
The administration page for this plugin is overwhelming, you can set everything, if you want to show your categories links, search bar, etc. You can set different stylesheet to work for iphone. You can make an icon that iphone users can use on their devices. And it also tells you what other plugins WPTouch Theme is compatible with.
I don't have an iphone to check how my website is looking on iphone with this plugin, if you have one go and get the plugin from here and then come back and please send me screenshots.
5. Akismet
As i said before, akismet should be the most popular, and it is probably, after Hello Dolly . It is coming default with wordpress and people does not need to download it again, and this is why the popularity meter of wordpress plugin directory shows it on place 5.
Akismet is simple, to use it you have to configure it with wordpress API key, so you have to register with wordpress.com in order to get your API key. You can use that API key for many wordpress installations.
Akismet will protect your blog from spam cooments. It is simple, few settings. But it also have a cool spam statistics.

I don't have to give you the download link because it comes with wordpress.
6. Twitter tools
Do you love twitter ? We all love twitter. Well. this is the reason because this plugin got so popular. You can check Twitter tools homepage for download.
It is a plugin that all blogs should have. It is very simple: integrate the twitter account with your blog. For every blog post you publish, a message on twitter will appear. Aren't you tired of posting manually a tweet when after you publish a blog post ? You have the solution, everything automated.
Another feature is the reverse action. Publishing a blog post every time you post a tweet. I doubt i will use this very soon.
Other options are available, like displaying your last tweets in sidebar. A small but very good plugin.
7. WordPress.com Stats
Well. I sincerely don't use this plugin. I am happy with Google Analytics, they can provide me with more stats that i need. So, my opinion: use analytics. If you have other thoughts please share them with me.
8. WP Follow ME
This plugin is about Twitter too, as the name says. Follow me is almost branded by twitter. Well, this is very simple, this will add a twitter badge in the right of the screen. When clicked, it will bring the visitor to the owners twitter account. The badge is available in different colors.
You can select the colors, you can set the icon, and that's pretty everything.
The follow me button will look like the one in the following image, it is stuck to the right side and it will remain sticky when scrolling down. The position from top can be changed and the alignment too. You can move it to the left.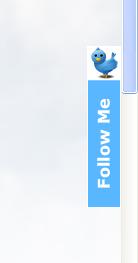 Go and download FollowME plugin from wordpress directory.
9. NextGEN Gallery
What i can say about this.. A fully featured gallery manager for wordpress. Excellent management, allows importing from a zip file, that is a very good feature when you want to upload 100 images.
While it is so complex, it is also simple. A wide range of options to choose, but the main things that you always use are one click away. This is best if you want to share albums with your website visitors.
So, i think words are useless here, so go and download: http://wordpress.org/extend/plugins/nextgen-gallery/
10. Audio Player

This plugin knows what he is doing. Has features for everything. It can replace all links to mp3 files from all your blog posts and turn them into a player that can be clicked and your visitors can listen it without download and other annoying behaviour.
Feed integration and display customization are just 2 of the features that makes this plugin so popular.
So go to download at: http://wordpress.org/extend/plugins/audio-player/
---
Disclosure: Some of the links in this post are "affiliate links." This means if you click on the link and purchase the item, I will receive an affiliate commission