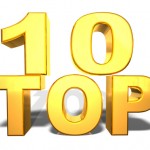 WordPress is currently the most popular content management system. The days when it was used only for blogs is past.
Because a website needs more features than a simple blog you need to do some work to your wordpress installation to make it what you want.
Fortunately, there are a lot of themes that can do all the work for you. Here is a list with top 10 best wordpress themes.
First of all, you have to know what you're looking for, what you website needs so you can select the perfect theme: maybe you need a news or informative theme for a news website, or you need a company presentation theme or a service.
Once you decided what type of website do you have you have to think further to the layout: you need a single column, or 2, or maybe 3. If you have younger visitors you need a dark theme, if your website is designed to be professional then you need a clear light theme.
For any type of website you are looking to build you will find a perfect match in the following top 10 wordpress themes list. They are analyzed from many point of views so you can make a better idea of what each theme is designed for.
1. LifeStyle Theme
LifeStyle theme is a light simple wordpress theme provided by Studiopress. Light blue colors of the theme elements make it usable for any kind of website or blog, but it will fit best for Travel, LifeStyle, Stories or News website.
A nice jquery slider on the top of the home page will help you to promote specific articles or stories. Advanced functionality from the backend will help you to select featured posts and other elements directly from your administration panel: no coding required.
The theme is available in different colors: Blue, Peach, Pink, Green or Purple, but i strongly recommend you to stick with the default light blue version: it is my favourite color. The theme color can be changed from the admin panel also.
The theme advanced features are provided by the Genesis Framework, which is available with the theme. The genesis framework also gives you many customization options directly to your wordpress admin panel:
Layout selector. You can select the layout of your website to be content/sidebar, sidebar/content/sidebar or any other option you want.
Advanced SEO options. You can set how to display page titles, archive titles, tags, nofollow links and much more.
A full review of Genesis Theme Framework can be found here.
The LifeStyle theme has a different view for homepage and regular pages. On the homepage the featured post slider along with the recent 3 posts from every category. The posts are grouped by category and you can select which categories to appear on the homepage.
You will have another blog posts list page where the summaries of all posts are listed in inverse chronological order independent from the category they are in.
Another nice aspect of Lifestyle is the 2 leveled menu that let's you to add how many pages you want without affecting the usability.
Here is a preview of LifeStyle theme:
Click here to get Lifestyle theme from Studiopress.
2. eStore Theme
eStore is a shop theme from ElegantThemes. As the name tells this theme is specific built to be used for online stores, online shops and eCommerce websites.
The design is great and for sure it will attract your visitors attention and make them more likely to buy something from you. A great looking professional design is the key to attract new customers.
The way the products are listed make them easy to be browsed and easy to make a decision.
The top image of the homepage is changed based on your featured products that you set into your administration panel. Under the top image is a slider with secondary featured products that appears only on the homepage.
A page menu is on the top of the website, while the category menu that will provide your visitors the ability to browse the products is bigger and more evident.
The store is also provided with an optional sidebar ( that you can turn off ) where you can show the shopping cart or other promotions or information useful to your customers.
This is the greatest shop theme I've found so far.
Here is an eStore preview: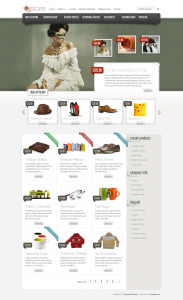 Click here to get eStore from ElegantThemes.
3. ElegantEstate Theme
ElegantEstate is the best real estate wordpress theme that i know. The most important aspect is the way that the available properties are displayed and how the price is associated.
Any modern website needs a slider and ElegantEstate don't forget it, and it is a really nice one. The featured post slider makes the website more attractive and you can promote some properties you want to sell. The most interesting about this slider is that it shows a summary of the property description on the homepage, making your visitors more likely to click.
There are 2 menus, one for website pages and one with property categories.
Additional functionality is added to the theme, the most important a property search where potential customers can filter the results based on their needs and money.
Here is a preview of ElegantEstate: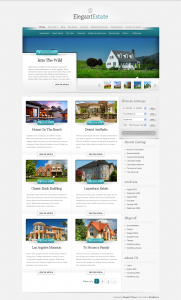 Click here to get ElegantEstate from ElegantThemes.
4. BlogNews
Blognews theme is a theme provided by Gabfirethemes designed for news website. The theme has a newspaper like structure with a big featured post slider to match the main article from a newspaper front page.
The slider can be customised directly from the administration panel. On the right side of the slider there is a small column designed for breaking news ( although it can be used for anything ) and some boxes for other content.
The news summaries are displayed in boxes on two columns along with the thumbnails. Under recent news there are news sorted by category. Last 4 news articles from every selected category is shown.
The topic of news articles are structured as wordpress categories. In my opinion this theme is perfect for a news website.
Here is a preview of BlogNews: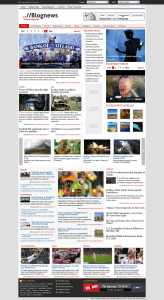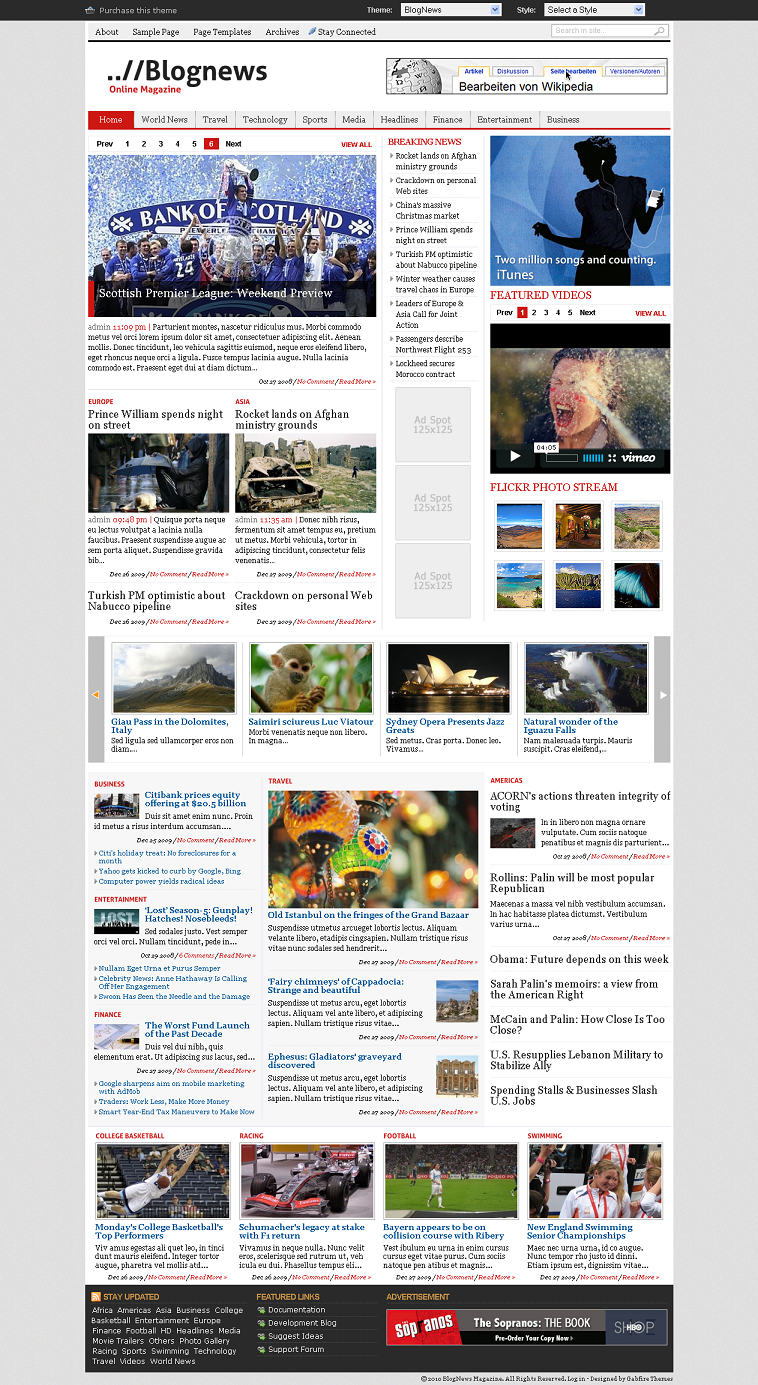 Click here to get BlogNews from GabFireThemes.
5. DeepFocus
Finally, a theme for photographers. The text content is harder to create and it takes time, but photographers are taking photos continuously and they have thousands of photos in their archive. They just need a quick way to show their work to the world.
DeepFocus can also work as  a portfolio for photographers to showcase their work and best shots.
The design is minimalist to let the photos to take all the attention. There is a big featured photo slider on the top of the website.
Here is a preview of DeepFocus: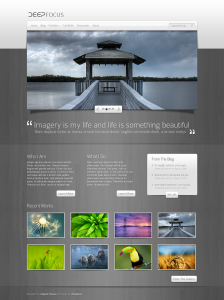 Click here to get DeepFocus from ElegantThemes.
6. Traveller WordPress Theme
Traveller is a wordpress theme from GorillaThemes. As the name says it is designed and optimized for Travel websites and blogs.
The light blue clear design makes you feel like you are already in vacation. In the header you can find a featured destinations slider which will help you to show to your visitors the most attractive places to go in vacation. These kind of graphical enhancements makes the visitors to like your website more.
The destinations are shown in boxes arranged in two columns so the user can see them better. Images is shown near every destination.
With Traveller you have full control on what will be displayed on the home page trough advanced options in the administration panel.
The design is very clear and even if you don't want to go to vacation right now, you will after you see the website. If i will need to build a travel blog, this is definitely the theme i will use.
Here is a Traveller preview: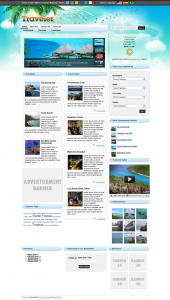 Click here to get Traveller from GorillaThemes.
7. Delicious wordpress theme
Delicious is a cooking/food wordpress theme developed by WpZoom. This wordpress theme is designed to be used for Food recipe blogs or restaurant blogs.
If you want to use is for a food recipes blog you will attract many readers with such a good looking design. The theme has a lot of options for a restaurant website. If you run a restaurant you need a website to present the menu and foods served. Delicious is the best theme for that as there is an image slider where some good looking images can be shown.
Under the image slider recent recipes from every category will be shown. The categories are customizable from wordpress administration panel.
Here is a preview of Delicious WordPress theme: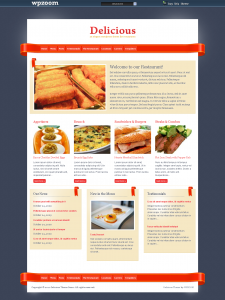 Click here to get Delicious wordpress theme from WpZoom.
8. Agent Press
Agent press is a premium wordpress theme from Studiopress. AgentPress is designed to work on Genesis Theme Framework which provides a lot of benefits and backend administration tools like: changing template layout directly from administration panel, changing website color scheme easily, advanced seo options.
Unsing wordpress default category and tag functionalities you can easily categorise properties so people can search and brows easily trough you website.
The template have a big property slider on the top of the homepage. The rest of the homepage shows the last properties added in every category. The sidebar is provided with an advanced search where your visitors can search for their perfect house.
Each property added have photos attached and a map with the exact location of the property.
Here is a preview of  AgentPress WordPress theme:
Click here to get Agent Press wordpress theme from Studiopress.
9. Tribune WordPress Theme
Tribune is a full featured wordpress template provided by WpZoom. It is designed to work with news/informational websites and blogs.
The layout of the theme is made to display your content in a newspaper like layout. In the front of the homepage there is a main featured article that no one can miss.
Under the main article there are 3 columns with recent articles, recent comments, featured articles. At the end of the home page recent stories from every category are shown.
The theme is also very customizable and have advanced options editable directly from wordpress admin panel. The theme is perfect for a news website.
Here is a preview of Tribune wordpress theme:

Click here to get Tribune wordpress theme from WpZoom.
10. Cafe Press
In the end, a different wordpress theme provided by Press75. This theme is not for content driven websites. It is for small, local business to present their small company to the world.
The design is very compact and includes photos and contact information.
The theme can be also used for a coffee shop presentation with the ability to post the menu online.
Here is a Cafe Press preview: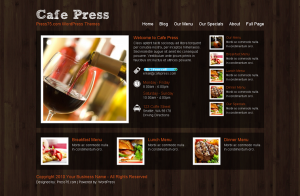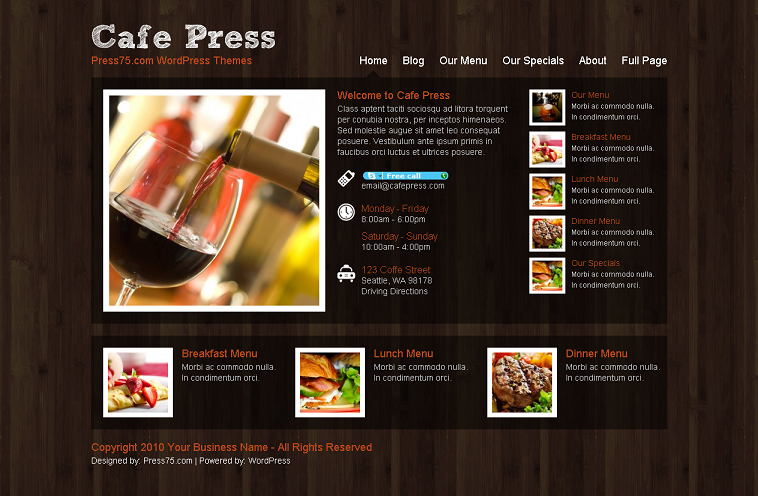 ---
Disclosure: Some of the links in this post are "affiliate links." This means if you click on the link and purchase the item, I will receive an affiliate commission