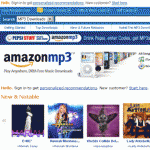 One of the most versatile ways to insert Amazon affiliate ads into your WordPress site content is by using an Amazon plugin — but only a few plugins distinguish themselves by being really clever in the way they help you show those Amazon ads.
My two favorite Amazon WordPress plugins are: WordPress-Amazon-Associate (WAA, for short) and Amazon Product in a Post (Amazon PIP, for short). These two plugins are completely free and are licensed under the GPL which is an open source license. You can download them and start using them (and even modify their code, if you know how to do that) instantly!
Here's why these plugins are fantastically clever in what they do.
WordPress-Amazon-Associate
WAA is a feature-packed plugin that any blogger who's also an Amazon associate should use. This plugin does several cool things. It can help you insert Amazon widgets in your WordPress site. It allows to customize the settings for those widgets right from your post edit page in WordPress.
Another cool feature WAA has is associate tag filtering. Say, you have non-affiliate links to Amazon products in your content. WAA can scan your content and embed your associate ID in those links automatically!
Additionally, it makes sure that your visitors are directed to the right Amazon store locale when they click on your affiliate links. That is, a visitor from Amazon will be directed to Amazon France, a visitor from Germany will be directed to Amazon Germany, and so on…WAA can also show JavaScript-powered product previews when your visitor hovers over Amazon product links.
It really is an all-in-one plugin for any Amazon associate.
Amazon Product in a Post
Amazon PIP lets you simply specify the ID of an Amazon product and it will show a great looking ad block. The product block will show the title, product description, list price, new item price, used item price, and a "Buy from Amazon" button right on your website. The plugin will retrieve this information from Amazon directly. You don't have to worry about keeping the information up-to-date or anything!
Another neat feature of Amazon PIP that I really like is that you can tell it not to display Amazon product description and instead use your own post content as the description of the product and blend it into the product ad block.
---
Disclosure: Some of the links in this post are "affiliate links." This means if you click on the link and purchase the item, I will receive an affiliate commission