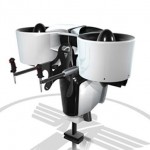 The WordPress JetPack Plugin super charges your home built WordPress site so that it has almost the same power as the site built through WordPress.com.
It is a great plugin, a MUST even, for every site.
Features include:
Simple, concise stats with no additional load on your server. Previously provided by WordPress.com Stats.
The WP.me URL shortener.
Hovercard popups for your commenters via Gravatar.
Easily embedded media from popular sites like YouTube, Digg, and Vimeo.
For the Math geeks, a simple way to include beautiful mathematical expressions on your site.
A widget for displaying recent tweets. Previously provided by Wickett Twitter Widget
Your readers can easily share your posts via email or their favorite social networks. Previously provided by the Sharedaddy WordPress plugin.
Your writing will improve thanks to After the Deadline, an artificial intelligence based spell, style, and grammar checker. Previously provided by the After the Deadline WordPress plugin.
And MORE to come …
For more details you can either visit WordPress.org or you can visit Jetpack.me . Those are also the websites from which you can download this magnificent plugin.
Enjoy it as much as I have !
---
Disclosure: Some of the links in this post are "affiliate links." This means if you click on the link and purchase the item, I will receive an affiliate commission