If you are not already aware of themeforest.com you should start browsing it. It is a place where you can find over 3000 Professional premium wordpress themes for prices starting from 1$ only. The themes are divided in categories based on the use case for any theme: presentation theme, blog theme, product page, landing page template, real estate themes, news blog themes, and anything you may think at.
You can filter and sort the themes in any way. It is an amazing place because you have all premium themes in the same place, you can compare prices and take the smart decision, making sure you are not overspending for something it won't worht it.
Here are few examples of great popular themes you can find on ThemeForest.
Striking theme.
This is the most popular premium theme on themeforest, it is designed for modern blogs and have a great layout.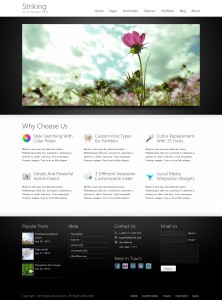 Striking premium wordpress theme download: link.
Clearly Modern
Clearly Modern is another popular premium theme designed for a blog that you can get from themeforest. It is a two column wordpress theme with a rich footer. ( Click to enlarge the screenshot ).
Dandelion WordPress Theme.
Dandelion is a top wordpress theme, also designed for blogs but with some advanced features like featured posts and social integration. It is best suited for a blog who tries to catch the eye trough great images.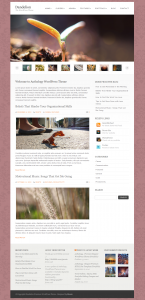 ---
Disclosure: Some of the links in this post are "affiliate links." This means if you click on the link and purchase the item, I will receive an affiliate commission