If you use WordPress platform as a CMS for your website or your blog you are probably very satisfied of the speed and simplicity that you get.
Well i will post a list with some administration plugins that will make your wordpress experience even better than it is.
My Page Order
Your probably used many times the page order feature from wordpress administration panel. It gives you 100% control on your wordpress page menu. But what happens when you have 30 pages ? you have to edit each one separately and keep in mind what value you have to enter for each.
So far i used a technique and i set the order of 3 to first page, 6 to the second, 9 to the third. Why ? When i want to add a new page in the second position i set it's order value to 4, if i want third position i set 7 or 8. It works for a limited number of pages.
But there is a plugin you can use to make page ordering drag and drop. The plugin creates a new link in the menu, where you can see all your pages and order them by drag and drop. Very easy!

Download the plugin here http://wordpress.org/extend/plugins/my-page-order/ .
Display Widgets
Ever wanted to show different things on sidebar for different pages ? On your home page you want to display latest posts, in single post pages you want to display related posts. On certain pages you don't want to display ads. Well, now you can do it without placing many "if" statements into your sidebar.php template file. Now you can do everything from you administration panel.
Download the plugin from here , activate it and then go to Appearance -> Widgets into your administration panel. Drag a widget you want, text, or html, or anything to the Sidebar and the options will appear.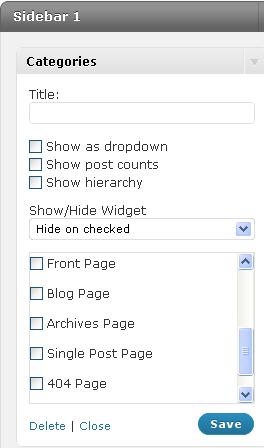 You can set options for every widget. First of all, set it if you want to hide it on selected pages or you want to show it on selected pages. For exemple: you want a widget to show only on 2 specific pages. Select Show on checked and then select the pages you want to appear on.
If you want a widget to appear everywhere except the homepage, select "Hide on Checked" and then select "Front Page". This will prevent the widget to show on front page.
Subheadings
This plugin does a simple thing but a very usefull one. Many times i felt the need to add a headline to my articles, something that will describe more what the post is about. I like fancy names as you can see in this blog address. For example someday i will feel the need to post a blog post with the name "WordPress Super Hero" maybe to write something about a great wordpress plugin i find. The title is good, but no one will know what it is about so i need a headlinue to tell them.
This plugin will add another text input near the title of every post where you can add a subheading. Good for seo too as it can be the description of the post.

Broken Link Checker
One of the worst things that can happen to a blog is to send your visitors to a broken page. Well, this plugin can be considered a Post doctor, more precicely, a doctor specialised in links. Go and download it and see how many times you sent your visitors to broken pages.
Keyword statistics
Many have said that wordpress is not good for SEO. Well, i will completely disagree. While wordpress is very good for SEO, it also have plugins to make the SEO life much easier. If you want to write articles for SEO purposes, which i disagree, i recommend you to write for humans. The spiders will understand something designed for humans, but there is a risk that humans will not understand something that is wrote for spiders.
Well, if you promise me that you will not exploit this, i will give you this plugin , that will tell you the keywords deisnty while you are writing the articles. Before you starting to use it please read this article: Write for humans not for spiders
Latency tracker
This plugin will track the number of database calls and the speed of your website.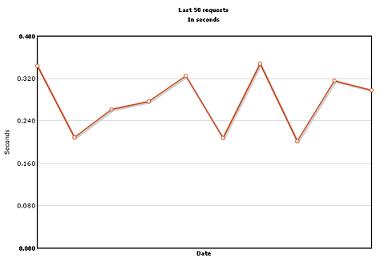 This plugin may not seem very good at the beggining, but it will tell you when you will need to find a faster host. There are websites that can make stress tests on you website to see how many simultaneous users it will support, but they are just orientative. If you're website is really stressed this plugin will tell you.
Old page reminder
I like statistics. They prevent me keeping in my mind all unuseful stuff like the date when i updated last time a page. I like plugins that keep tracks of things. They help me a lot of time and a lot of stress.
This plugin is one of them. Google started to like pages that are updating often. With these move to instant web, people want to know things that happen now, not things that happened 3 months ago.
Conclusions
These are only few plugins that will make your wordpress experience much better. There are so many plugins that makes me to say that wordpress is much better than i think it is. If you have something in mind and you think: "That will be a good addition to wordpress" go and search for it in the plugin directory. Maybe at least one developer thought at this before. And the things that are good, the things that helps blogs and websites, everyone thinks at those and at least someone will build them.
---
Disclosure: Some of the links in this post are "affiliate links." This means if you click on the link and purchase the item, I will receive an affiliate commission