The wordpress CMS is the best user friendly content management system around here. You can get your website up and running in 15 minutes with wordpress. The wordpress administration panel is very easy to understand, but there are people that still having some problems using it.
After wordpress installation, if you want to maximize the wordpress potential, you have to know what administration panel can do. Here is the easy way to do it, i wrote a complete article with all wordpress admin panel features. Let's start!
Dashboard
When you login to your wordpress administration panel you see the Dashboard. Here you will get an overview about what is happening in your website: some stats about how many posts and pages do you have, if there are new comments on your wordpress blog posts, with links to edit pages, posts, comments etc.
There are not many things to do here, except the overview of  your blog. The only thing you can change is the order of the boxes that appear on this page, and to choose which you want to hide.
In the top right you can see "Screen options", click it and a list with check boxes will appear, you can select what things should be displayed here. This feature is available on all wordpress administration panel pages, feel free to hide the things you don't want to appear on any page.
Near screen options button, you can see a quick navigation which has default link as "New Post". From there you can quick go in different places, in most cases, the most used ones.
Posts
In the post menu category you have several links: "Edit", "Add new", "Post tags" and "Categories".
Edit
When you follow this link you will go to a page where you can see all posts from your blog. On the top of the page you will have the following links: "All", "Published", and "Draft". The default is "All" which will display all posts, if you click published you will see only published posts, and drafts will show you only the draft ones.
In the posts display table every posts is shown in a row. If you go with your mouse over a row, under the post name will appear some links: "Edit", "Quick Edit", "Trash", "View". If you go to edit, you will go to the edit post page, quick edit will make a box to open in the same page, under the post row, and you can quick change the title, the slug, categories and tags for that post. In the other columns on that table you can see the author, the categories and comments. If you click on the author link, you will see only the posts written by that author, the same thing happens if you click a specific category or a tag. If you click on the comment icon, you will be sent to the comment moderation page for that specific post.
Add new
The add new post page has the same features as edit individual post page, so both will be explained here. The options you have when you add or edit a post are: The title of the post, the content, excerpt, trackbacks, custom fields, discussion options, post options, categories and tags. More options will appear here if you have different plugins installed, for example if you install all in one seo pack you can set SEO related values for every post or page.
After you add the title, a permalink will be created, that is the URL where the post will be available. The permalink will be created based on your permalink options. The permalink section is covered in the wordpress installation article.  You can edit this url and write whatever you want there, it is up to you.
The content will be edited with the help of TinyMCE rich text editor which allows you to add images, embed media, and almost all features you can have in Microsoft word or other text editor, except tables. The default wordpress editor won't let you make or edit tables.
The excerpt is optional, in most cases you don't want to use it. It is an introduction to your article. With the right theme configuration it can be displayed on the blog post list page on your website, but most bloggers are using the "more" tag. If you want that only a portion of your article to appear on posts list, separate the main content from the introduction with the "more tag" that can be found in the wordpress RTE editor.

You are still advised to write some summary as excerpt so you can use that later in your theme, when you want to upgrade the website and add it more features. At that point will be a pain to edit all posts manually.
Trackbaks are to notify other sites that you linked to them. If you linked to an article there are chances that the trackback will appear as a comment on that blog. If the site you link is wordpress based you don't need to add a trackback, since it will be automatically added by it's wordpress installation.
Custom fields add the option to set some meta-data fields at your choice. They can be used by the theme to show different thing, for example when you write  a post you can tell your visitors what was your mood at that time, or what are you listening. Those fields can be used in the theme to show different icons or values to your visitors. If you want custom fields you have to configure your theme to display those custom fields.
Discussion options: here you can set if people can comment on this specific posts, or if trackbacks and pingbacks are allowed to be shown as comments.
For post options the buttons are self explained, you can save a draft, preview or publish a blog post. You can also hide a blog post previously published by changing its status from "Published" to "Draft". A very good feature is that you can postpone the date the post will be published. For example you write it now, but it will be auto published 3 days later, when you will be in vacation but you want your visitors to think that you are working hard on your blog. As a funny thing, this can be used when you want to get away from police, if they accuse you tell them that you were writing a blog post, it is impossible that you were at the crime place. I like movies with police and justice 🙂
Post tags are used for navigation purposes. For example someone reads a blog posts, at the end of it, all tags for that post will be shown. Let's say the blog post was about comedy movies, if he want to read other posts related to comedy movies he can click on that tag and see all articles from your blog with the tag "comedy movies". Use tags to tell your visitors what your post is about. You can read more about tags on my articles that match the "tags" tag.
The categories have a separate section in the wordpress admin panel, but here you can quick add a category, and associate the current posts to the category that best fits.
Post Tags
Here you can edit the tags you already added on post page. For example if you added a tag but you have only one article related to it and you don't want to write more about the same subject in the future delete that tag. The user will get annoyed as it click a link and goes to a page with the same article, not good for navigation.
Categories
Same as above you can add, delete or edit categories.
Media
The media menu category is responsible with photos and video management on wordpress blogs. I'm using media feature in wordpress only for images, for videos i prefer to upload them on YouTube and then embed using the HTML editor when editing a post. The images can also be added when you edit a post, here you can see a list with all media files that you uploaded and you can edit them or delete.
You can also add new media file and later add it to a blog post, but i can't see many reasons you would like to do this. If you want to have galleries on your wordpress blog the best option is to use a good plugin that will power your wordpress website with galleries.
Links
If you use wordpress cms for a basic website, this feature is not so important for you, but if you have a blog oriented wordpress installation you would like to add some other blogs or sites that you like the most, to give credit to their authors and provide your visitors with good resources. It is mostly referred as "Blogroll". The blogroll is the default link category on wordpress. You can change it's name to "What i read", or just "Links", or "Friends", or whatever you like.
In this area of administration panel you can edit links and link categories. If you don't want links to appear, just delete all links and they will disappear.
When adding a new link you have to write it's title, the URL and the description. You have the option to make the link private so only registered users can see it. You can assign the category as you assign it to a blog post, or you can quick add a new one withoud leavind the "add new page".
The link category page has the categories list and the form to add new one in one page. Don't bother to change the default wordpress link category as you won't. Just delete all links inside and it will disappear from your front page. You can add more link categories and they will appear as different sections in your sidebar. For example you can have a link category "Friends", "Colleagues", "Co-workers", "Partners", etc.
Pages
The page add new and edit features are the same as blog posts. The same editor, the same options, except they don't have tags and categories. But they still have something additionally, Parents and Order.
When you add a parent for a page, that page will go in the submenu of the parent page. The theme have to be set accordingly for your needs. For example if you want to show the pages as a tree the theme should have a tree menu. If you want to display level 1 pages in some place, and subpages in other place that also need the theme to be set up for that.
Comments
The comments section of the wp administration panel will list all comments to your blog posts, so you can edit, delete, unapprove or to mark it as spam. If you un-approve a comment it will be send in the pending list again, so you can approve it at a later date. The posted of the comment can't edit it later, only you can, to remove his link for example, if it sends you to a bad website. If you send a comment into trash it will not be deleted, it will remain in trash like it is in your recycle bin.
If you use Akismet spam protector or other anti-spam plugin, you will have the option to mark the comment as spam and it will be sent into spam folder.

You can filter the messages that appear and view only pending comments, or spam comments. The links to filter can be found on the top of the comment screen, but you will rarely use those links as they are on dashboard too.

Appearance
The main scope of the Appearance menu is to handle the themes of your wordpress blog. "Themes" link will get you to manage themes section where you can see the current theme installed, or you can select another and activate it. For every theme you have links to activate it, preview or delete. The delete may not work in some cases due to folder permissions issues.
To add a new theme you have to options, either you download separately from wordpress theme directory or from other place and then upload it trough FTP, either you use the "Add new theme" wordpress administration feature. You can find a link to that in the menu, or you can click on the button on the top of theme management page.

If you use the automated theme download, you can search for a specific keyword, for example: "iphone", or "blue", or "tech", or you can use the filter provided. The more checkboxes you check the less themes are shown. For example if you want a two column blue theme select the respective checkboxes, but if you want 2 column theme but you are unsure if you want blue or pink, don't check both boxes, instead do the searches one at a time.
Some themes may have the ability to change some of its options directly from admin panel, for example, the option can give you the possibility to change about the author box directly from admin panel, you don't have to manually edit the code of the theme. If this is the case, a new link "Them Options" will appear. There were build some advanced themes where you can change many values from the administration panel, more menu links can appear into the Appearance section.
You can edit the code of the theme directly from you wordpress admin panel. Go to "Editor" link under Appearance, and all the theme files will appear in the right screen. The default is style.css which defines the global style of you wordpress current theme. You cam make a lot of changes from there, if you know css and HTML it will be very easy for you, if you don't you can still change some values from CSS. For example, colors are wrote into RGB format, if you know what is that, you can start changing values, save, refresh your blog front-page and see what is happening.
Widgets
The widgets are features that your visitors see in your sidebar. You can select what sections they can see by dragging and dropping widgets to the sidebar. Depending on your theme you can have one sidebar, 2 sidebars, more or none. The theme must be coded properly so it can provide widget support. If it doesn't you have to do everything manually from the code.
For example, if you want to show latest posts, categories and tag cloud, just drag and drop the respective boxes to the sidebar where you want them to appear. After you drop a box the settings dialog for that feature will open and you can set parameters to it, so you can have the look that you want without having to go trough the code. More plugins you add to wordpress more widgets will appear in the widgets page. If a plugin has something to show, it can be shown by widgets.
Plugins
This is the most important part of wordpress. The plugins powers wordpress and makes it such a strong CMS. Plugins are additional files that are installed in the wordpress directory and adds new functionality to your wordpress blog. For example comment spam filter, or related posts, they are all plugins.
You don't have to worry about installing plugins, the process is so easy that can be done by a 3 year old child.
In the plugins menu category you can see a list with all plugins installed so you can activate/de-activate.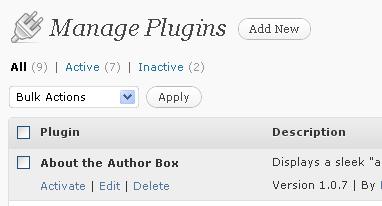 In the above image you can see that you can set filters to who only Active or only Inactive plugins. An installed plugin means that the plugin is present on the server along with wordpress. To make it work you have to activate it. You can also edit the plugin, but that link will get you to a code editor so i bet you won't have much luck with that.
Similar to themes, you can directly add plugins from your administration panel. Go to "Add new" and search for something, for example: "related posts", or "seo", or "anti spam", or everything that goes trough your mind. Even if you are sure that you can't find what you are looking for, give it a try, make a search, you will be surprised.
If you install a lot of plugins you can see that some of them will add more links under the plugins menu category. On that links you can change the plugin settings. Most of the plugins will add new links under the "Settings" menu category.
Users
In this section you can add new users to your wordpress installation so you can grant access to others to add articles to your blog.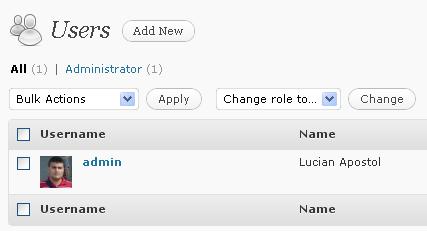 If you never been here, it is a good thing to change the default user "admin" details. Add your name so when you post something, if the theme shows the author you prevent "Posted by admin" to be displayed. "Posted by Your Name" is much better.
You can also use plugins that at the end of every post you can show the author box. That plugin will get the data from here, since you can add a description to every user too. So edit your info, install the plugin and you're set.
If you want your image to be shown on your blog in author description, or when you comment on other blogs with your e-mail address you have to use Gravatar.
When adding a new user you add his name, username,  e-mail, a password and optional a website.
As you can see in the above image, you can send the password to the user e-mail adter the account is created and you can also set the role of the new user.
The subscriber is default role, he can't do anything, just comment, and his name will appear as the comment author. The administrator can change everything and do everything in wordpress admin panel. The editor role don't have any control over configuration, plugins and settings of a wordpress installation, but he have full control on the content. He can edit/delete/approve posts, comments and links. The author role can write posts, but he can't edit others, he can approve and delete comments to it's blog posts. A contributor is like an author, but he can't publish posts, he can only write them and save. Someone else must approve them and publish.
If you want to get a friend to help you with wordpress setup and maintenance, give him administration role if you trust him. If you want him to help you with the content give him editor role. If you are a team of more people who write to a blog give author roles to every one, if you want others to send posts to you then give them contributors roles so you are sure that nothing bad will be posted to your website/blog. The last action is also called guest posting and it is very popular these days.
Tools
On the tools section of your administration panel you will find 2 tools, you can enable Google Gears to work with your website. Google gears can give you the ability to browse a website when you are offline. First gears download content from the page to your computer and then you have the ability to get trough that content. Unfortunately, google gears project will not be continued ad google found that the best way is to use HTML5 offline capabilities and every programmer to provide offline support.
Another good tool is "Press this", a plugin for browser that can help you to grab bits from the web and save it to wordpress, and at a later date to edit them and publish.
The import link will show you different options so you can import blog posts from other blogging platforms, which includes: Blogger, Blogware, DotClear, GreyMatter, LiveJournal, TypePad, TextPatter, or from another wordpress blog. You also can import posts from a custom RSS feed.
To export the data from your wordpress blog go to Export and press "Download export file", it is simple and your browser will start downloading. Save that file into your computer, and, when you will have problems with your wordpress blog, take that file and import it by going to Import link and then select WordPress from the list.
The upgrade section of the Tools menu category will let you to automatically upgrade wordpress if a new version is available. You probably won't click this links, because when a new version will be available, you will see a link into the top of the administration panel. It will stay active until you upgrade or if you dismiss it.
You can also upgrade plugins here, if any plugin was updated, you will see a list with all of them and you can select which to update.
Settings
This is probably one of the most important parts in wordpress, here you can change general configuration of your wordpress blog. I will take every section and explain it.
General
The blog title will appear everywhere, in your website header, in your rss feed title, in your trackbacks and pingbacks that you send to other blogs, and in many other places.
The tag line is a short description of your website, depending on the theme, it will appear under the title in the header.
The wordpress address and blog address are the same by default. The wordpress address is the place where the wordpress files are installed, but the wordpress gives you the possibility to have the blog real address somewhere else on your domain. For example if you want you website to be at http://www.yourdomain.com, but you don't want to have wordpress files in the same place, you can put the wordpress files in another directory and specify it at wordpress address, and leave http://www.yourdomain.com as your blog address. The wordpress will auto redirect everything trough .htaccess file so you don't have to worry that your visitors will see where you have wordpress installed. It will make no difference for them.
The e-mail address will be the master e-mail address of the wordpress installation, by default is the same with the admin user email address.
By checking the box "anyone can register" you can grant access to your users to register and they will get the user default role that you set in the next line. I suggest you to turn this feature off, as subscriber won't give them anything notable, but after they register they can post comments that will get directly approved, so they don't pass trough approval system. This is a tactic used by spammers who want to avoid the moderation of comments.
Timezone and time format, you can change them as you wish, but they are not so important. The week start day will help wordpress to arrange the calendar, if you use one, but i don't think the calendar is very important for navigation, only if you have a news site or something.
Writing
The size of the blog post will define the default value of the post box when you add/edit posts and pages trough your administration panel. This is important and you should set it depending on your screen height. I use 30 lines by default, but i don't pay to much attention as my browser Google Chrome allows me to change the size of the text areas on every page.
You can select to convert emoticons, so if you write emoticons code they will be converted as they are in instant text messaging systems.
If you set to auto convert nested XHTML the editor will delete everything that you add into your HTML editor that is not XHTML compliant.
The default post category is the category that a post will be added to if you forget to select in which category a post should belong. The same with links.
Remote publishing settings are used when you want to post on your wordpress blog from other place than your browser. For example from a smartphone application, or a desktop application. You can also post via e-mail so you can activate this option. To make it work you should first create a secret account only for this purpose and then set here the mail server, the port should be the default one in most cases, the username, the password and the category where those posts will belong. Every mail sent to that e-mail address will be published. I won't recommend using this feature as you don't want to get all the spam on your blog.
When you add a new post you will want to notice search engines that you have updated your content. So wordpress announces the ping server that you have new content, and the ping server will notice the search engines. The default value is very good, but you are free to add other ping services. Anyway, they will not make any difference.
Reading
Here you can set what will be displayed on your homepage. You can show recent posts on homepage, or you can set a custom page that will serve as the homepage. To do so, select the second radio button and then choose the page that you want to be your homepage. Then select the page that you want your blog posts to appear. If you don't want to show your posts, don't select Blog post page and none will appear.
Then select how many posts to appear on the blog posts page, the default value is 10, if you have long posts, you should set it to 5. If you use the more attribute, leave it to 10.
You can select to display only a summary into your rss feed. It was a long debate on how a blog should manage rss feed. Some are saying that the best way is to give only summarized to make the people to visit the page. Other are saying that if you give only summaries the user will get tired to click every time you post something new and will ultimately delete you from his reader. My opinion is that is better to show the full article into rss, your goal should be to spread your message, which can be achieved even if the visitor won't visit your site, it is more important that he read what you are writing.
Discussion
On default article settings you can set if you will let your blog to send trackbacks to other blogs. I strongly advice that you do that, as there are many chances that a link to your new article to be posted as a comment on the pages that you linked to. If you link to another blog into your post means that your visitors can find something related there, so it is a good way to notify the other blog if he want to allow your link into a comment of the article to give value to his article. This is exactly what the second check box does: allow or deny pingbacks and trackbacks. If someone links to you, a comment will appear with a link to that blog. Most trackbacks will go trough approval system so you don't have to worry about spam problems.
The other settings here are about commenting on your blog, if you want to be notified, which comments should go into your moderation system, and other basic stuff.
Media settings
When you upload a image to a post, it will be crunched into different sizes. Those sizes are defined here, as thumbnail size, medium size and large size. After you add the image you have the option to select the size from the ones defined here, or to use it's original size.
If you activate the auto embed, if you post a link to a youtube video it will be auto embedded yo your website, so your readers can watch it.
Privacy
You can select if you want your blog visible in search engines or not. Tell me someone who doesn't.
Permalinks
Permalinks will define the structure that your urls will be created. The best way to create urls for your blogs is to have the name of the post with hyphens instead of spaces. I am used to add the year into my blog posts for 2 reasons: The user should know when the article was posted, and to avoid problems when, after 2 years, i want to post an article with the same title.
To show the year, month and post name select the third radio button. If you don't want to show the month, select the custom structure and write /%postname%/ . The year and month will not be added on pages, only to blog posts.
The urls of categories will be /category/category-name/ and the tag pages: /tag/tag-name/ if you want to replace "category" and "tag" with something else, write any word in Category base and Tag base fields.
Miscellaneous
In the miscellaneous page you can set the folder where your uploads ( images, videos ) will be stored. Since the content of your blog is public, you don't have to bother to change it, but if you want the data folder to be protected you can set another directory.
---
Disclosure: Some of the links in this post are "affiliate links." This means if you click on the link and purchase the item, I will receive an affiliate commission